Orenco® Septic System Parts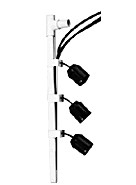 Float Switch Assemblies can be mounted in pump vaults, effluent screens, pump basins, and risers. These are pre-assembled with one or more floats mounted on a 1" PVC float stem. ABS float collars are used to provide secure and easily adjustable mounting.
ABS Float Collars for 1" schedule 40 pipe are the simplest, most reliable way to attach liquid level control floats. Quick release clip requires no special tools to mount or adjust.

Splice Boxes safely house spliced wire connections between an electrical control panels, effluent pumps and float switches. Available with 1 to 6 watertight cord grips and includes a watertight splicing kit. SB1 through SB4 models use 3/4" diameter conduit and SB5 & SB6 use 1" conduit.
---
For more information, or to schedule a complimentary consultation and free estimate, please contact us either via e-mail at parts@affordableseptics.com
or call us at 541-259-4374  M-T 7:30am-3:30pm    F 7:30am – 12pm