Orenco® Septic System Parts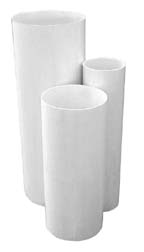 Risers provide access to septic tank openings and can be used to provide access to other components in the system such as splitter valves, etc. Constructed of ribbed PVC pipe. Standard risers are offered in 6" length increments up to 13 feet. Available diameters are 18", 21", 24" and 30".
Small Access risers are used as valve enclosures, inspection ports, and service connection risers. Constructed of lightweight PVC pipe.

Pipe grommets provide a watertight seal at piping penetrations. All grommets conform to standard IPS sizes.
Fiberglass lids provide a secure covering for access risers and are capable of supporting a 2,500 lb. load. Molded with an attractive green finish and a textured nonskid top surface.
Note: Lids are not rated for vehicular traffic.
---
For more information, or to schedule a complimentary consultation and free estimate, please contact us either via e-mail at parts@affordableseptics.com
or call us at 541-259-4374  M-T 7:30am-3:30pm    F 7:30am – 12pm